Liquid and vapour distributor
Liquid distributors are designed to distribute the liquid above a packing bed. They have a major importance for the good operation of the packing. Their function is to warrant a uniform distribution of the liquid rate on the packing bed. It is an essential condition for a good mass transfer between the liquid phase and the vapour phase. Besides, we may have to place additional distributors at regular intervals in a column when the height of packing is becoming large. We generally do not overrun 5 m ., indeed 6 m . of packing without collecting the liquid and re-distributing it.
Many types of distributors exist depending on the liquid rate , the size of the column. On this documentation , we only describe three types. All our types of distributors maybe dismantled and can be introduced in a column through a manhole or trough a body flange.
Ladder type orifice distributor DT type
This distributor is made of transversal pipes with calibrated perforations placed at regular intervals. It is well suitable for heavy vapour flow rates. Nevertheless , it presents the disadvantage to be difficult to be cleaned , but this type of distributor is very versatile in terms of liquid flow rate range.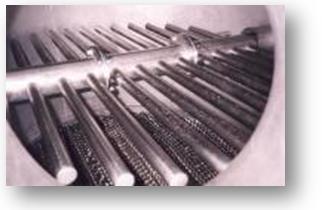 Ladder type orifice distributor DT type
Pan type orifice distributor DG type
When a doubt hangs over the liquid quality to be distributed, in particular concerning its amount of solid particles , we recommend to install a pan orifice distributor. These types of distributors can be equipped with vertical tubes which keep the solids in the bottom of the gutter and avoid the plugging of the orifices.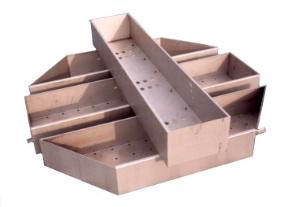 Pan orifice distributor DG type
Weir type distributor
The weir distributor type DE looks like the PAN orifice distributor. The main difference is that it does not have any distribution perforations in the bottom and that the pans have got V notches on their vertical part.
The liquid is distributed by overflowing these notches which are calculated in order to come up to the required flow rate flexibility.