SUPPORT GRIDS AND HOLD DOWN GRIDS
The support grids bear on a support ring welded to the column. They keep the packing in position and are used, in certain columns, for distributing the gaseous phase.
Depending on the diameter of the column on the height and on the type of packing, different types of support grids can be used.
These grids are made of detachable parts that can be introduced by a body flange or by a manhole.
SUPPORT GRID GS TYPE V
These support grids are used for random packing.
These support grids are made of grids used as beams and assembled the ones to the others. They are perforated with orifices calculated to let go :
the vapour through oblong holes on the vertical walls
the liquid through circular holes on the horizontal walls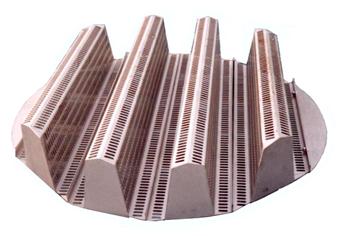 Support grid GS type V
SUPPORT GRID GS TYPE S
These support grids are used for structured packing.
One or several reinforcement beams can be required when installed for a large diameter column.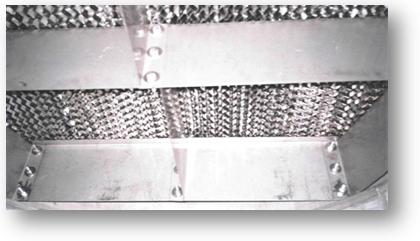 Support grid type S
HOLD DOWN GRID GR TYPE
The hold down grids placed above the packing hold the bed in position in case the vapour rate would be too important.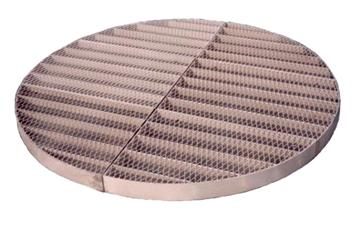 Support grid GR type